Impress diners with WiFi service so good, they'll use it to upvote the food.
The power of social media as digital word-of-mouth represents tremendous opportunities for cafe and restaurant owners. Diners like to share good experiences – making it easy for them to do so on Facebook, Twitter, Instagram, and other platforms is key to generating awareness and credibility.
And it goes further. Offering complimentary WiFi via 'likes', follows, and check-ins not only simplifies connectivity for diners. It also makes it simple for establishment owners to build communities and gain insight into their patrons.
But all this hinges on excellent Internet access that comes with the seating. Can you give these owners the ability to provision WiFi access on the fly, and grow their networks easily and cost-effectively to keep up as their operations expand?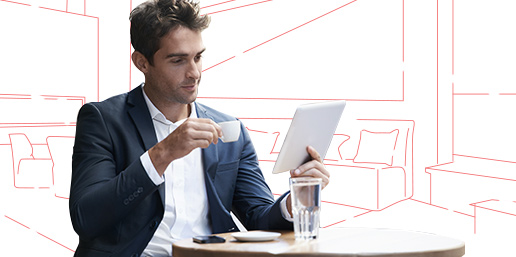 ---
Run office networks
the way you want

---
Keep networks current
as the business grows
---
Customize your IG 4100 according to the establishment's needs, from a range of modules such as Multi-WAN, Volume Control, Payment, and more. Start with only the ones needed and add more later when the business demands it.
IG 4100's Advanced QoS support lets cafe and restaurant owners maximize available bandwidth, while up-selling connectivity options to diners that want more bandwidth with their meals.
Above all, ANTlabs's continual commitment to R&D ensures your IG 4100 will keep pace with trends and shifts in the data landscape.
The ANTlabs IG 4100 enables cafes and restaurants to tap the power of social media marketing – and grow their networks without hassle or costly upgrades.