Give passengers the best roaming experience of their journey.
Even today, Internet access is not a guaranteed thing for travellers. Many who have just arrived in another country will have no cellular data access yet; likewise, foreigners leaving for home who have already thrown away their prepaid cards.
Many transport hubs are already filling this gap with complimentary WiFi services. But monetizing these services is difficult when login hassles, and bandwidth hogging by the tenants, make airport and train station networks a poor experience for travellers.
Transport hub owners need to simplify their WiFi logins, control bandwidth to prevent tenant abuse, and drive travellers to tenant outlets – who can offer tiered WiFi access under agreement with the hub.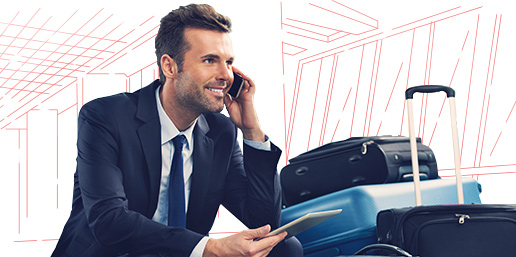 ---
---
With the ANTlabs SG 4, a one-stop gateway for managing and monetizing large-venue public access networks, you can:
---

---
Provision
Identify users, grant them
access, and bill them

---
Authorize
Convert users into customers
with different service levels

---
Authenticate
Offer login methods to suit
different types of users

---
Account
Vary offerings for different
usage needs and patterns
---
The SG 4 enables automatic, zero-configuration login, removing the need for travellers to tweak device settings and re-login every time they want to connect. Time-limited access helps keep freeloaders and bandwidth hogs off the network.
Transport hub owners can offer subscription or sponsorship WiFi services to tenants, who in turn can offer different service tiers based on traveller purchases. The SG 4 supports user account printers that can be configured to generate different access codes with just a button press.
In conjunction, tenant cafes and restaurants can tap social media integration to further impress travelling patrons, and boost the transport hub's public profile.
The ANTlabs SG 4 enables airports & train stations to monetize their WiFi infrastructure by delivering a hassle-free, high-quality network experience for travellers.
---